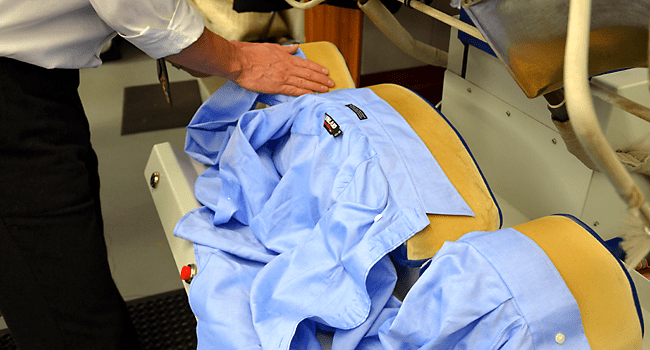 We've been big on shirts for a long time! A good shirt service starts with attention to collars and cuffs, followed by thorough laundering using quality detergents and special wash programs.
Here's what you get:
No different than a hotel! You hand us your shirts. We check them into our specialized computer software (http://www.computersystemsint.com) for dry cleaners. We look it over for defects.
We individually tag each item. During tagging, we inspect it again.
Your item gets sorted by day, type of garment, colour and material.
Your garment is spotted. Stains are spotted with specific cleaning agents created specifically for that stain. Collars and cuffs are always scrubbed with a collar and a cuff solution.
We wash your garment using commercial grade detergents at set temperatures for a prescribed amount of time and specific RPMs customized to your clothing.
When the shirts are clean, items are sorted again.
Items with collar and cuff are placed on VEIT collar and cuff unit.
Shirt is formed on VEIT shirt machine. Shirt is placed in an shirt extender and shaped back into its original form. It is also injected with steam and hot air to dry it and press back to a perfect state.
Collar is folded over, then formed on a collar unit.
Shirt is dressed on a hanger.  The top, middle and bottom buttons are done up. Collar stay is inserted to keep the collar from collapsing. Cuff links are installed on shirts with cuffs.
Shirt is placed back with the rest of your garments as a single order.
Each item is inspected for deficiencies. If we're not happy with the results, we repeat steps 4-11.
If we're happy with the results, then we insert your order into a biodegradable plastic sleeve. We organize your entire order by weight, so heavier items don't crush light items.
Your order is scanned as "ready". If you're up-to-date in our system, you receive a text or an email letting you know.
When you return, you'll pick up your order from a friendly staff member.
These steps are what's required for a basic cotton shirt. Not bad for 3 bucks, eh?